SENTINEL AFAD
Automated flagger assistance device
SENTINEL AFAD TRAILER
Automated Flagger Assistance Device
Keep flaggers out of harm's way with the Sentinel Automated Flagger Assistance Device (AFAD). Certified flaggers can safely operate the Sentinel AFAD via wireless remote control from the roadside.
HIGHLIGHTS
Saves lives – removes flaggers from traffic

Compact Type 4 trailer

Easy to transport, move and operate

Single or tandem tow capabilities

Full range of flagger functionality

Small footprint for tight work zones

Automatic gate arm with reflective sheeting

Retractable tongue for added safety

Battery-powered with external voltage meter

Easy-raise winch mechanism to raise mast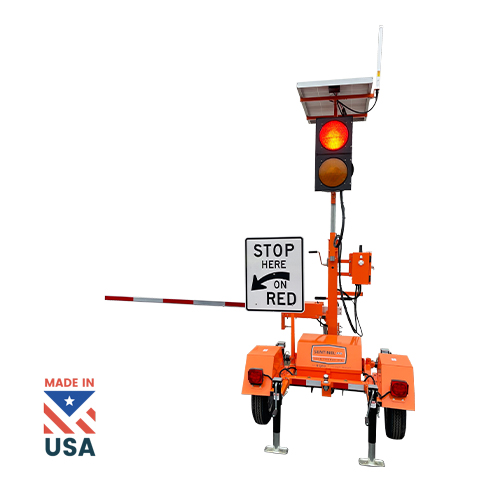 Lockable/weather-proof battery box
Wheeled base models are also available.
PURCHASE OR RENT
SENTINEL AFADs
NATIONWIDE DELIVERY AVAILABLE
WE'VE GOT
YOUR

BACK
CALL JTI AT 888.447.7263