Speedsafe 20/20
Radar speed trailer
SPEESAFE 20/20
Radar Speed Trailer
The SpeedSafe 20/20 radar speed trailer increases speed awareness to calm traffic and improve safety. It consists of a high visibility LED speed display mounted to a towable Type 4 trailer.
HIGHLIGHTS
Alerts drivers about their speed in real time

Tow the trailer to any location – setup in minutes

Folding frame easily raises unit and folds for transport

Speed Limit sign has changeable speed digits

LED sign has a selectable speed limit setting

Flashing message can be displayed for speeders

Self-contained battery power with solar recharging

Vandal proof LED sign shield and lockable controls

Customizable for any specification (colors, signs, etc.)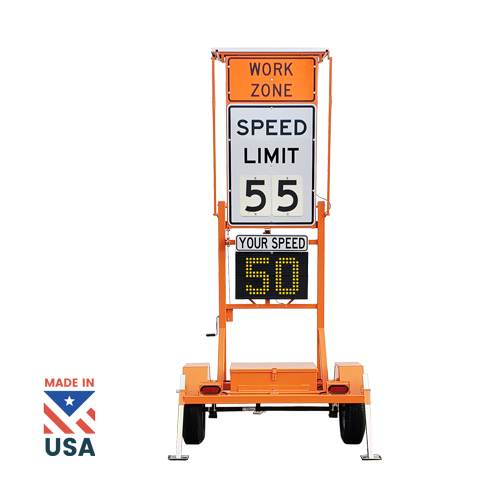 Speed limit sign – changeable
Solar panel for recharging
Self-contained battery power
JTI's radar speed trailers are proudly MADE IN THE USA in Dixon, Illinois. We can customize your speed trailer to your exact specifications, including custom trailer colors, sign sizes, decals, components, and more.